MBC and SBS are going to be excluded from HD DMB service that will start in August because there is a chance that Pooq, which is their paid internet video service (Over the Top), can lose customers as it overlaps with HD DMB service. As 2 terrestrial TV businesses are not participating in terrestrial DMB, which is a free universal service, due to their paid broadcasting services, a controversy regarding public responsibility can take place.
MBC and SBS made announcements on the 19th that they will not participate in HD DMB service that is going to start in August. A main reason on why they are not participating in this service is due to their OTT service called 'Pooq'.
MBC and SBS each invested $3.42 million (4 billion KRW) in 2012 and started 'Pooq' that allows people to watch contents from terrestrial TV businesses. Because HD DMB allows people to watch terrestrial TV businesses for free in real time, its service partially overlaps with Pooq's service. "Because SBS and MBC believe that members from Pooq service can decrease as Pooq's real-time terrestrial service and HD DMB's service overlap, they have decided not to participate in HD DMB." said a representative for Terrestrial DMB Special Committee. "After looking at relations of variety of businesses as well as Pooq, we have decided not to participate in HD DMB project for a time being." said representatives for MBC and SBS.
It is predicted that these movements by MBC and SBS will create a public responsibility controversy in terrestrial TV businesses. terrestrial TV businesses received an approval of their businesses by saying that they are pushing for viewers' welfare through broadcasting during movements. South Korean Government appointed terrestrial DMB as the medium for disaster broadcasting in 2014. terrestrial TV businesses have carried out DMB business by using sources of radio signals for free.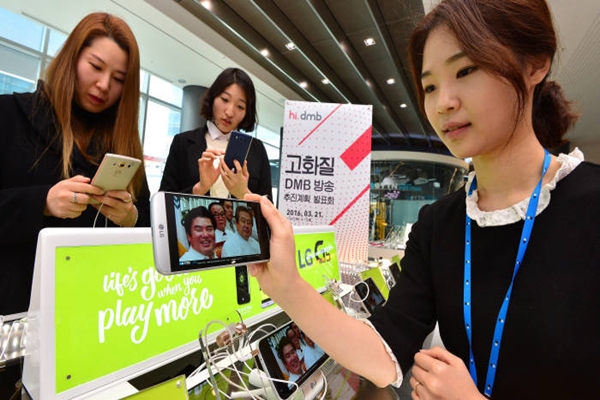 Rest of terrestrial DMB businesses are surprised at this sudden announcements from MBC and SBS because these businesses, which had been recording tens of millions of dollars in losses, have just created a source of profit for fixed CAS (Conditional Access System) by improving quality of channels to HD. Usually when CAS is installed into a device, manufacturers pay cost of license. Until now, these businesses had depended on advertisements for most of their profits. As number of viewers had decreased due to low quality, sales from advertisements also had decreased every year.
Recently these businesses finished making contracts with most of cellphone manufacturers and major navigation manufacturers. It is heard that they also made a CAS contract with Samsung Electronics. They have finished talking with LG Electronics about upgrading high-quality DMB devices and currently discussing about money.
According to Terrestrial DMB Special Committee, these businesses will make profits between $8.12 million and $10.3 million (9.5 billion KRW and 12 billion KRW) in next year due to CAS contracts. This committee is also predicting that 3 non-terrestrial DMB businesses will also make first net profit in next year.
KBS and 3 non-terrestrial DMB businesses such as YTN, QBS, and U1 will start HD DMB service on the 1st of August without MBC and SBS. "3 non-terrestrial DMB businesses, which had been making losses, are also going to start high-quality services." said Terrestrial DMB Special Committee. "A fact that terrestrial TV businesses, which have been making surpluses through continuous DMB businesses, is suddenly stopping high-quality upgrade that does not cost much of investments due to a reason of an impact on Pooq's service shows their abandonment of public responsibility."
Staff Reporter Jeon, Jiyeon | now21@etnews.com