A South Korean research team has discovered an imaging device that visualizes brain activities in real time when a small helmet is worn. It has engrafted technologies from semiconductor, SW and others, which are South Korea's strengths, to medical equipment markets that are like wastelands and is receiving calls from global businesses such as Apple, Google and others.
According to a related industry on the 17th, a team led by Professor Bae Hyeon-min of KAIST's Electrical Engineering Department has developed an ultra-small near-infrared neuroimaging device called 'NIRSIT'. This device is going to be on markets once it is approved by Ministry of Food and Drug Safety.
NIRSIT is a device that visualizes brain activities in real time through tablets and allows one to check his or her brain activities in just 10 seconds if he or she wears an imaging device that looks like a helmet. It is based on a structure where a laser and a detector that are attached to a helmet use magnetic field and measures oxygen amount in a brain and this device is a product of Ministry of Science, ICP and Future Planning's 'Convergence of Medical Technology and High-Tech Medical Scientific Technology and Original Technology Development Business'.
Size of NIRSIK, which only weighs about 400g, is 250th of fMRI (functional MRI) that shows brain activities in real time and is completely wireless.
NIRSIK's picture quality is same as about average MRI and is 4x4mm per pixel. It is 10 times clearer than near-infrared spectroscopy (3x3cm) that has similar functions as NIRSIK and stands comparison as average MRI (3x3mm).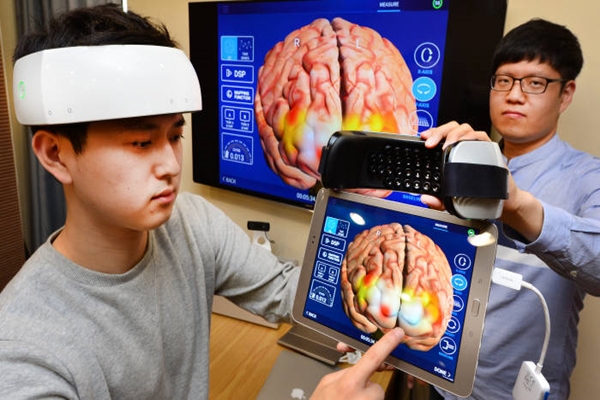 Professor Bae was able to implement neuroimaging device that weighs more than 100km as a semiconductor that is a size of palm. A semiconductor that is equipped in this device delivers, controls, and analyzes signals that a laser and a detector send and receive. Professor Bae also used semiconductors for CDMA (Code Division Multiple Access) and MIMO (Multi-Input Multi-Output) that maximize portability.
"These semiconductors understand which channels had gone through magnetic field and which information was sent and received." said Professor Bae. "Ultra-small imaging device with ultra-high quality is discovered by using converged technologies that are engrafted with semiconductors, SW algorithms, and fast telecommunication technologies."
This product was in a development process for 7 years and it recently went into a process of mass-production and will be approved by Ministry of Food and Drug Safety in second half of this year. Starting from next year, this device will be sold as a normal medical device besides for research purposes in South Korea. Commercialization will be done by OBE Lab, which was established in 2013, and Professor Bae is the CTO (Chief Technology Officer).
This device is getting many positive responses from global businesses such as Apple, Google, Audi and others. Apple and Google are out to grasp leading positions in healthcare markets through Smart devices and are planning to expand their healthcare services such as measurement of heartbeat, stress index and others that are loaded into Smartphones even towards neurology. If they secure real time data of brain activities that were impossible to be secured until now, related services will become endless.
"We recently demonstrated this device at Apple's headquarters." said Professor Bae. "Not only are global IT businesses that are trying to secure upper hand in healthcare markets are considering about using NIRSIK, but even automotive businesses such as Audi and others are considering NIRSIK since they are interested about data of a brain, which is an important aspect in accidents." He also added by saying that he is going to work hard to let the world know about South Korea's medical device technologies since related markets are going to be worth more than $84.2 billion (100 trillion KRW) in the future.
Staff Reporter Jung, Yongchul | jungyc@etnews.com