SK Holdings Co., Ltd. is becoming an AI-based data service business.
SK Holdings Co., Ltd. made an announcement on the 9th that it has signed off on 'Watson-based AI business cooperation contract' with Korea IBM. It has secured right of South Korea Watson business and it will establish Watson marketing and system with Korea IBM. Its ultimate goal is to form an AI industry ecosystem by combining IT service and Big Data technologies per SK Holdings Co., Ltd.'s industries with AI.
To develop South Korea's AI industry, SK Holdings Co., Ltd. will also invest in raising talented people from industries and universities. It will also form millions of dollars worth of funds for vitalizing ecosystem of venture businesses that will develop AI services to review AI industry. It believes that it can apply world's most fast AI service if areas such as public sectors and finances are at IT level.
Any start-up companies or IT developers use Watson API (Application Programming Interface). SK Holdings Co., Ltd. will establish 'Watson Cloud Platform' at Pankyo Cloud Center to develop this application. It is expected that Korean AI service will be ready for many devices such as tablets, Smartphones, robots and others.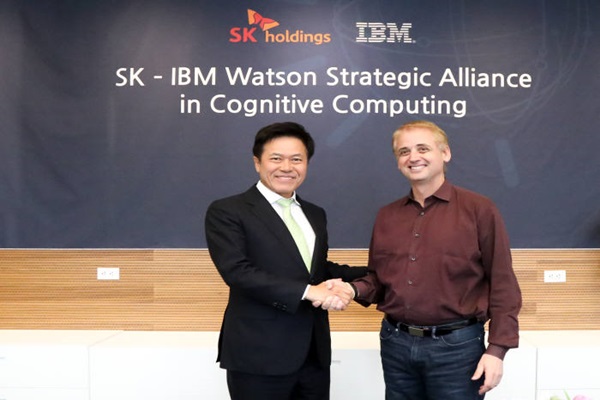 IBM will co-start Watson Korean service with SK Holdings Co., Ltd. in early next year. They will develop analysis of meaning of traditional language, machine running-based data search, conversation, change of documents and others in Korean version. By using variety of medium such as mobiles, webs, robots and others, they will communicate with Watson in Korean. Through this service, South Korean businesses will be able to optimize customer experience and improve their products and services.
"South Korea's venture companies develop global AI services through SK Holdings Co., Ltd." said President Park Jung-ho of SK Holdings Co., Ltd. "We will lead the way in service to form AI industry ecosystem." After working together in Cloud business ,these two companies are planning to compete for preoccupancy of South Korea's recognition computer business through Watson cooperation.
Staff Reporter Shin, Hyekwon | hkshin@etnews.com