Either to work or as part of one's leisure time, riding a bicycle is not out of the ordinary any more. It is now embedded in one's everyday activities, thus many people are looking for bike wear for a comfortable riding experience.

Ahn Hyung-Sun(39) CEO of ARDEN BIKE WEAR (www.ardenbike.co.kr), runs a South Korean online bike wear specialty mall which carries not only functional but also stylish bike clothing. With its designs, reasonable prices, and high quality items, ARDEN BIKE WEAR satisfies customers from all over the world.

After launching the English version (en.ardenbike.com) of its site through cafe24 (www.cafe24.com), a global e-commerce platform and the largest in South Korea, there have been more visitors coming to the website leading to an increase in sales. In addition, through international buyers, ARDEN BIKE WEAR is exporting to Taiwan, Hong Kong, Indonesia, Philippines, and other countries in Asia.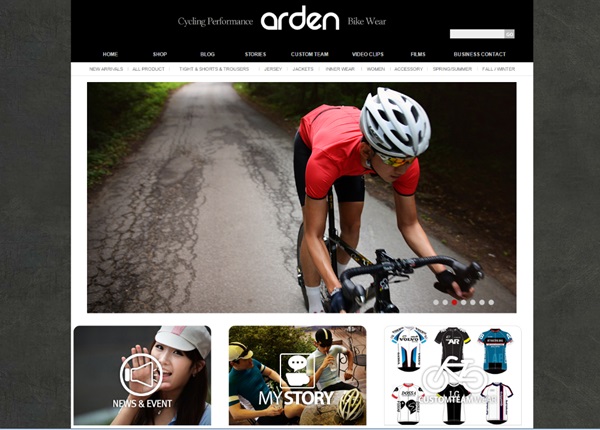 Currently, ARDEN BIKE WEAR is selling about 300 items, and all processes, from design to manufacture, occur in South Korea. CEO Ahn said, "We first started the business by selling foreign brands, but at sadly, prices were high." He explained that he decided to start in-house production in order to present customers with fine quality items that are as good as those foreign brands but at much more reasonable prices.

All products at ARDEN BIKE WEAR are designed and manufactured applying ergonomic and 3-dimensional patterns to improve comfort and wearability. Also, only top quality functional breathable fabric is used to help the user better regulate body temperature. Additionally, ARDEN BIKE WEAR launches modern and sophisticated styles through constant improvements to designs and research.

CEO Ahn is also focusing on bringing his products to an even higher level by developing specially-designed pads. These pads help reduce pain and discomfort when riding as they are attached to the buttocks. He also added that bike wear has to be comfortable as they are worn without any underwear. ARDEN BIKE WEAR offers pads in different sizes and thickness to reduce discomfort.

In addition, ARDEN BIKE WEAR centers on customers when running its business. It shoots its product photographs outdoors so as to show better what they would feel like when worn. When shooting, it tries to express the actual looks when riding in order to satisfy customers' needs for an improved shopping experience.

ARDEN BIKE WEAR has an offline store in Seoul. Customers can visit the store and try on actual bike wear and gear.

CEO Ahn went on to say, "Products made with OEM parts will eventually lose competitiveness, and there will be copies and lookalikes sooner or later. ARDEN BIKE WEAR in-house designs and manufactures all of its products in South Korea, thus offers differentiated items. Our goal is to be a globally-recognized brand with its top quality made-in-South Korea items."

Staff Reporter Yoon, Hee-seok | pioneer@etnews.com