SK Innovation is extending production line of LiBS (Lithium-ion Battery Separator) to respond to rapid increase of demands for LiBS, which is a major material for secondary batteries, as electric vehicle markets are starting to grow. It will have a size that won't be a pushover even when it is compared to Japan's Asahi Kasei Corporation, which is the number 1 business in this industry.

This plan is SK Innovation's strategy to maximize its profitability according to economy of scale.

According to this industry on the 7th, SK Innovation is going to hold a board meeting on the 22nd of this month and decide on investments for extension of LiBS production lines. It is going to newly extend number 10 and 11 lines to factories that are located in Jeungpyeong in sometime during first half of this year. It is estimated that production size will exceed 80 million m2.

Decision for extension was made due to increase in demands from China. Total of 247,500 electric vehicles were sold in China last year and that number was the highest in the world. Orders are flooding in because while demands for LiBS are increasing, there aren't any manufacturers for wet LiBS that SK Innovation is producing in China. Some industries even predict that there will be lack of supplies next year.

By extending its lines, SK Innovation's competition with Asahi Kasei Corporation has become more heated. Based on 2014's global separator market, SK Innovation had held 18% of overall shares which made it number 2 business in the world. However as Asahi Kasei took over CellGuard, which used to be number 3 business in the world, last year, difference has widened by more than 20%. Although overall production capability of SK Innovation's separator is 250 million m2 per year, it will surpass 330 million m2 after extension is completed. Because sales of LiBS are going smoothly, SK Innovation is planning to tighten its match with Asahi Kasei as it will have more than 20% of global demands after extension is completed.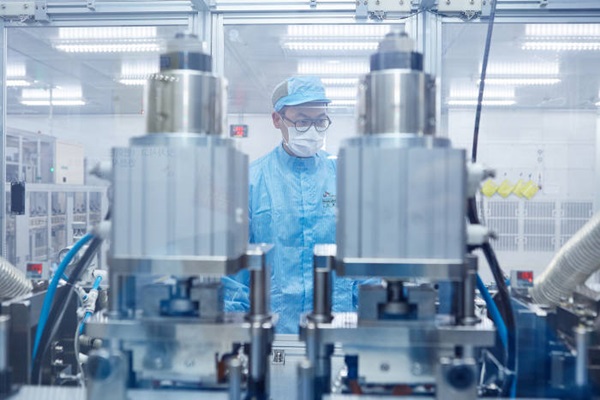 "SK Innovation saw this time as the right time to invest in extension as LiBS market is asking for more demands." said a representative for this industry. "If profitability improves due to increase in shares, financial burden from loss of battery business, which is SK Innovation's another important business, will be greatly reduced."

SK Innovation is focusing on extending separator and electric vehicle batteries lines, which are two important businesses for B&I business (Battery & Information), for short period of time. As electric vehicle markets are starting to grow on full-scale, SK Innovation is planning to maximize its profitability through short and maximum investments.

Separator business, which has high profitability and market shares, will lead growth of SK Innovation for awhile. As SK Innovation was able to make about $21.6 million (25 billion KRW) in operating profit just from separator business last year, it was able to reduce loss from battery business. Because market situation looks good, all of operating profits from extended lines will be applied to its operating profit right away. It currently has production capability of producing 250 million m2 of separators per year.

SK Innovation will have economy of scale through this extension. There is a high chance that it will extend its lines even more in the future due to increase in demands.

Market research company called B3 is predicting that LiBS market will rapidly grow at about 17% per year until 2020. It is predicted that demands for IT devices and medium and large LiBS for electric vehicles will increase annually by 9% and 29% respectively.

Benefits are being focused as size of global LiBS market is expected to quantum-jump from $603 million (700 billion KRW) in 2010 to $2.59 billion (3 trillion KRW) in 2020 and as operation rate of global LiBS facilities surpassed 70% last year while it was only 60% in 2014.

SK Innovation also quickly grew size of electric vehicle battery business. Although its production capability of batteries was only 0.3GWh at the end of 2014, it increased to 0.7GWh in July of last year due to increase in supplies from China.

Its current operation rate is 100% and SK Innovation is planning to increase production capability up to 1GWh by third quarter of this year through extension of lines. Demands for batteries from its customers like Daimler Chrysler and its partners like Beijing Auto are very stable.

Turnaround of its performance is also very visible. Financial industry estimated that sales and operating loss for B&I Business Sector for last year were going to be $302 million (350 billion KRW) and $39.7 million (46 billion KRW) respectively. Hyundai Securities co., Ltd. is estimating that SK Innovation's operating loss will decrease to about $12.9 million (15 billion KRW) this year due to extension of production lines of separator and increase of sales of batteries and that SK Innovation will make $690 million (800 billion KRW) and $43.1 million (50 billion KRW) in sales and operating profit respectively in 2018.