CEO Eric Schmidt of Google Alphabet evaluated a match between Lee Se-dol, who is a 9-dan rank Go player, and AlphaGo, which is an artificial intelligence (AI) program, as a 'mankind's victory'. Lee Se-dol, who had guaranteed a complete victory over AlphaGo, took a step back and emphasized that Go's beauty and human's value will not fall.

"Regardless of result of this match, mankind will be victorious in this match." said CEO Schmidt at a press conference that was held at Four Seasons Hotel in Gwanghwamun on the 8th. "As AI and Machine Running technology become more advanced, human will become smarter and more talented."

Chairman Schmidt let people know about his deep emotion when AI field, which was suffering hardships due to development of technologies such as Machine Running and others, emerged as a new possibility for development of mankind. Development of AI has sped up due to fast computing and new algorithms. He cited a possibility of automatic translation of hundreds of words and automatic classification of pictures with Google Photo as examples of AI's development.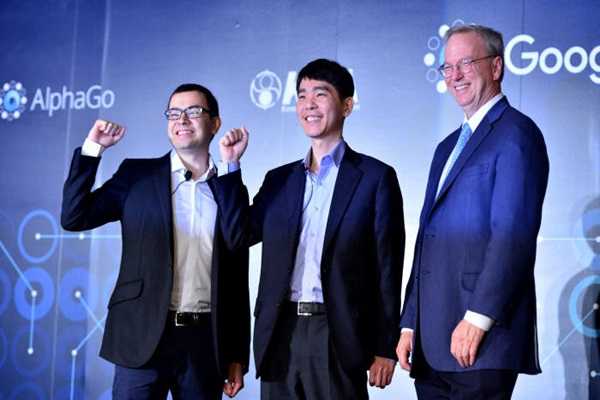 "I've always lived my life as a computer scientist. Although expectation for AI was huge in 1960s, I had to live in 'cold winter' for 30 years afterwards." said Chairman Schmidt. "Although I thought that AI will never rise again, AI technologies are being used in variety of areas every single day."

Chairman Schmidt also encouraged results that DeepMind, which is AlphaGo developer, has made in AI field. "DeepMind that was developed by 3 of my friends has developed a new technology called Reinforcement Learning." said Chairman Schmidt. "This has made impossible into possibilities and challenge world's best Go champion."

Lee Se-dol was seen somewhat tense. During last press conference, he made a careful prediction that it will not be easy to beat AlphaGo in all 5 matches. This indicates that AlphaGo's abilities are better than expected.

"I still have a lot of confidence. However because it is now possible for AlphaGo to imitate human's intuition up to certain level, difference in skills between myself and AlphaGo is not much anymore. There is a high chance that I won't beat AlphaGo in all 5 games." said Lee Se-dol. "Number of moves that a human can think is maximum of 1,000 moves while a computer can think up to 1 million or 10 million moves. Because AlphaGo was able to significantly decrease range of thinking recently while still being able to think up to 1 million or 10 million moves, these matches will not be easy."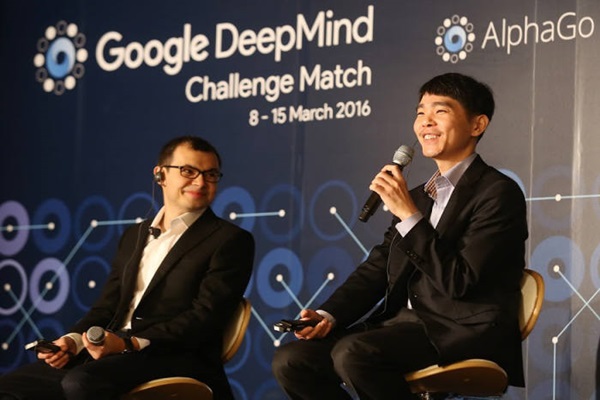 "Although human will lose to AI one day, Go's value will not decrease because of it." said Lee Se-dol regarding a question on the outcome of this match. "I will return a favor with good and beautiful Go." He also drew a line between mankind and AI by saying that a machine (AI) is not playing Go while understanding the beauty of Go and human.

CEO Demis Hassabis of Google DeepMind had showed plenty of confidence while evaluating Go as the best game that was created by mankind.

"Go is the best intuitive and beautiful game." said CEO Hassabis. "A reason why DeepMind is so interested in Go is because calculation and intuition are so important to solve complication of Go that has 10170 of number of cases." He also added that AlphaGo does not get tired or scared and that he has not found any limitations in AlphaGo's capabilities that are improving through learning.

There are also expectations that AlphaGo will contribute in improving mankind. It can develop universal algorithms and be used in areas that are considered as serious and difficult problems. It can also find and estimate difficult laws, which can be difficult to be found by human, through analysis of Big Data. AI is the primary focus in medical and health fields.

"I want to let the world know that AlphaGo can contribute in solving difficult problems with strong and flexible learning algorithms." said CEO Hassabis. "Because AlphaGo is made by mankind, it can also be a way to prove mankind's creativity." Match will start at 1 P.M. on the 9th of March. 5 matches will take place between the 9th and 15th excluding the 11th and 14th.

Staff Reporter Lee, Hojoon | newlevel@etnews.com & Staff Reporter Oh, Daeseok | ods@etnews.com