South Korean government, which lost golden time at the time of Sewol Ferry Incident, is combining and linking disaster management system that suffered from an industrial accident and reorganizing its system that was restoration-based to respond-based. It will be established based on Government (G) Cloud and it will be possible to put ICT resource immediately when a huge disaster occurs.

Ministry of Public Safety and Security announced on the 20th that it chose Ssangyong Information & Communications Corp. as a business that will establish Integrated Disaster Safety Information System that is valued at $11.2 million (13 billion KRW) and will start the project. It will finish this project by March of 2016 and officially start it after test operation.

When huge complex disasters such as Umyeon Mountain landslide, Sewol Ferry incident and others occur, governmental cooperation such as sharing of collected information between related organizations, transmission of situations, and sharing of personal and material resources is required. Because previous groups such as past National Emergency Management, Korea Coast Guard, and others establish their own information system, combined operation cannot occur. Sharing is impossible even within same organization because systems are established per department such as earthquake, damage from storm and flood and others. There is also limitation in coping with huge disaster because most of disaster management information systems are established about the same time as when National Emergency Management was established in 2004.

Ministry of Public Safety and Security is combining 6 disaster management systems such as central disaster management system and others and linking 7 systems such as system that copes with earthquake disaster and others. It is also combining 3 situation management systems such as situation transmission system and linking coastal situation transmission system. Finally it is establishing disaster management portal and providing combined service.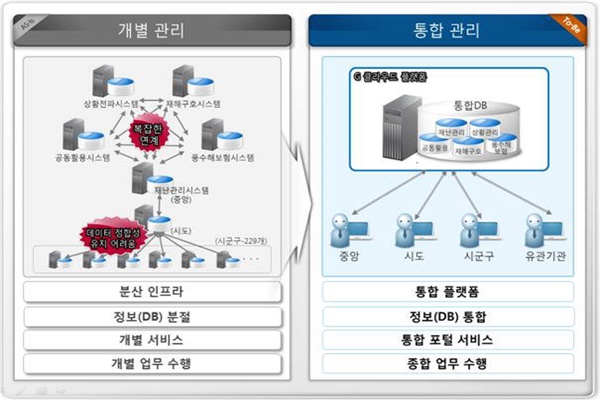 It is replacing its current information system based on restoration with information system based on coping ability and establishing combined situation management system based on geographic information system (GIS). It is strengthening its functions through situation management service per incident from transmission of situations by a message unit. Disaster situation information from central office group, local autonomous entity, and related organizations support activities that cope with disaster situation by being collected and managed by integrated situation management system. Rapid system that copes with disaster will also be established by linking governmental disaster management information such as CCTV and others and situation information.

It is also preparing system that copes with disaster based on mobile and increasing its coping ability on a site of accident by exchanging information on variety of videos and pictures through Smartphones. "If Ministry of Government Administration and Home Affairs' public service method that uses mobile gets prepared, we are planning to apply it right away to system that copes with disaster management." said a person that is affiliated with Ministry of Public Safety and Security.

It is also increasing flexibility of usage of information resource by applying G Cloud. It is possible to use information resources for establishing support system and sending information about situations between many organizations if sudden huge disaster occurs. Other than establishing integrated disaster safety information system, Ministry of Public Safety and Security is continuously pushing for scientification of disaster management based on ICT.

Staff Reporter Shin, Hyekwon | hkshin@etnews.com