SK Hynix is investing $38.9 billion (46 trillion KRW) to build 3 semiconductor facilities by 2024 so that it can be the first one to prepare for demands that will increase hereafter. It is also operating M14, which can produce 20-Nano D-RAM, in third quarter to further its distance from competitors and become joint first-place.

SK Hynix (CEO Park Sung Wook) held completion of M14 and proclamation ceremony for future vision at its headquarters in Icheon, Gyeongi-do on 25th. Chairman Chey Tae-won of SK Group, who was released from prison, showed up for the first time at first official meeting and announced its desire to promote its semiconductor business. About 400 people including Secretary Yoon Sang Jik of Ministry of Trade, Industry and Energy, Secretary Yoon Sung Kyu of Ministry of Environment, Assemblyman YooSeung Woo, Governor Nam Kyung Pil of Gyeongi-do, Governor Lee Si Jong of Chungcheongbuk-do Province, Mayor Cho Byung Don of Icheon, Mayor Lee Sung Hoon of Cheongju, President Kim Chang Gun of SK SUPEX Seeking Meeting , President Park Sung Wook of SK Hynix, cooperative companies, regional representatives, and others.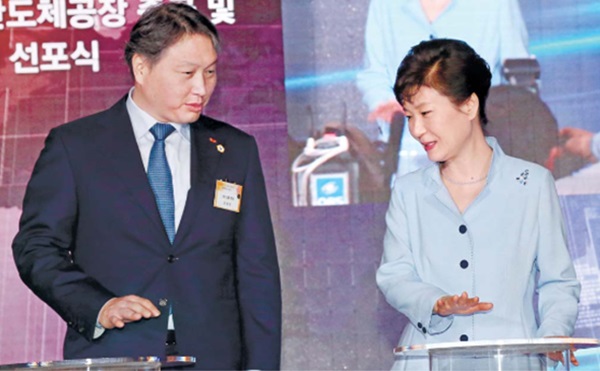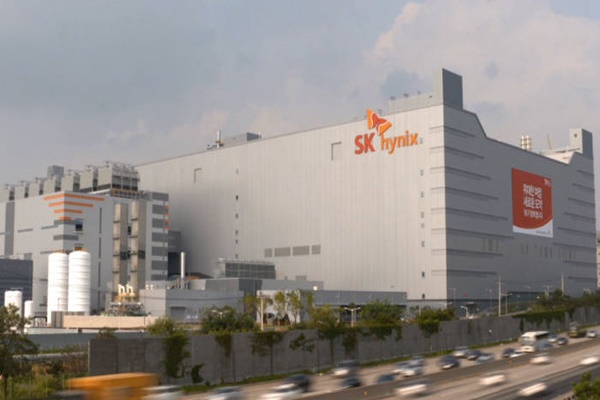 For the first time in 18 years after 1997, SK Hynix is building production factory for 300mm semiconductors. Although it was not the first one to invest due to worsened economy caused by semiconductor Chicken Game, its business was able to recover after being bought out by SK Group in 2012 and prepare for large-sized investment as well.

Area of M14 that is located in Icheon Headquarters was set at 53,000 m2 (16,000 pyeong), which is equivalent to 7.5 soccer stadiums. As the biggest single building with a size of 66,000 m2 (20,000 pyeong, 33,000 m2 per floor), two-story Clean Room can produce up to 200,000 300mm wafer sheets per month. Output of M10, which is currently in operation, is about 120,000 to 130,000 sheets per month.

SK Hynix is going to invest total of $12.7 billion (15 trillion KRW) into M14 and begin operation starting from 3rd quarter and produce high-tech 20-Nano D-RAM . By having a capability to produce 3,000 wafer sheets per month by end of this year, it is going to gradually increase its output and establish its superiority in competition against others.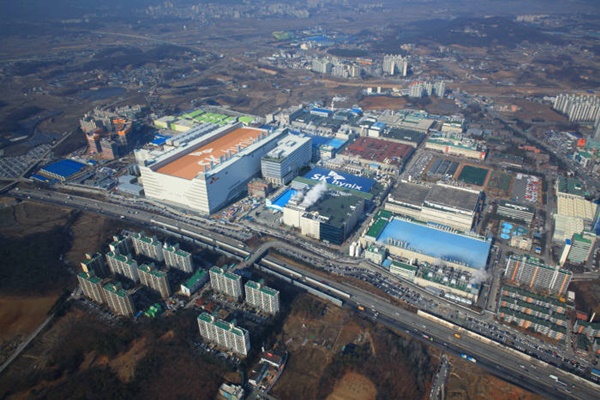 Including M14, it is planning to invest total of $38.9 billion for 10 years hereafter to build 2 semiconductor factories in Icheon and Cheongju separately. It is investing $26.2 billion (31 trillion KRW) for 2 new factories. Icheon will start site renovation starting from next year, and Cheongju will look to secure a new landsite.

SK Hynix's strategy is to secure lands to produce semiconductor earlier than its competitors due to increase in numbers of processes due to miniature processes and enlarged equipment. By expanding additional production capabilities early, it can quickly respond to changes in market and be ahead of its competitors.

"We are thankful for government, local governments, communities, cooperative companies, and others that showed supports and concerns to successfully establish M14. Although it is difficult to foresee competition situation in the future, we are going to do our best to repay Korean citizens' expectations and supports by strengthening medium and long-term competitive edge through continuous innovation and investment in people." said Chairman Choi Tae Won of SK Group.

On the other hand, Seoul National University is predicting that sales that M14 will produce will cause inducement of $46.5 billion (55 trillion KRW) to Korean economy and create employments for 210,000 people. If SK Hynix carry out its investments in M14 and 2 new factories, it is predicting that economy ripple effect will be 3 times to that of investment in M14.

■ Daily record of establishment of SK Hynix's M14

1. June of 2013: Begins to push for M14

2. December of 2013: Announces construction of M14

3. July of 2014: Starts construction of M14

4. June of 2015: Brings in equipment

5. August of 2015: M14 is completed

■ [Table] Current state of SK Hynix's M14

Area: 53,000 m2 (16,000 pyeong), length: 333m, width: 160m, height: 77m (equivalent to size of 7.5 soccer stadiums)

Size of Clean Room: Multi-story structure 66,000 m2 (20,000 pyeong)

Time when it will be in operation: 3rd quarter of 2015

Staff Reporter Bae, Okjin | withok@etnews.com