Samsung Electronics' TVs are receiving much attention from America's luxury cars tuning markets. Its TVs rose as brand-name products as many companies that specialize in tuning luxury cars are choosing Samsung's TVs continuously. Unlike previous small-sized TVs that are under 20-inch were used in cars, it delivered 46-inch products and this indicates new B2B market for large-sized TVs is opened. Industry is very interested as TV B2B market surpasses hotels and lodges and expands to cars.

America's company that specializes in tuning cars called 'Lexani Motorcars' recently showed luxury tuning model of Toyota's Land Cruiser. Tuning model that modified its interior with expensive material has Italian leather seats, which can be used as beds in alternative. It has tailored sewed carpet on the floor, and interior environment can be adjusted with just a touch using tablet PC such as iPad.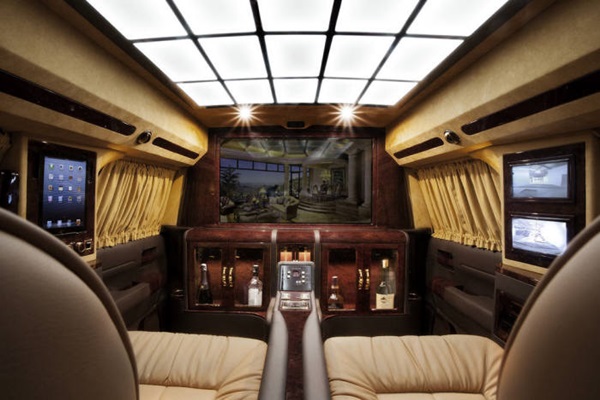 However a product that captures many eyes is 46-inch LED TV that is located in the front. Lexani Motorcars decorated inside as a private movie theater that has Samsung Electronics' Smart TV, Blu-ray, and DVD Player. Player is also Samsung Electronics' product, and private satellite system can be set up with additional payment. It also considered security of one's personal life by having personal information protection function in Smart TV.

Not just Toyota, but Samsung TV was applied on other luxury cars such as Mercedes Benz, Lincoln, Cadillac, GMC, and etc. that Lexani Motorcars considers as luxury cars.

In last October, it showed 'Diamond Plus' package that has 65-inch 4K UHD TV in Benz Sprint. In 'Diamond' package that is one class lower, Samsung provided not just 46-inch, but 40-inch TV as well. Lexani introduced background for introduction of large-sized TVs by saying that it feel like watching a TV in a living room. It also installs other companies' products such as LG Electronics, Sony, and etc. if the customers want them.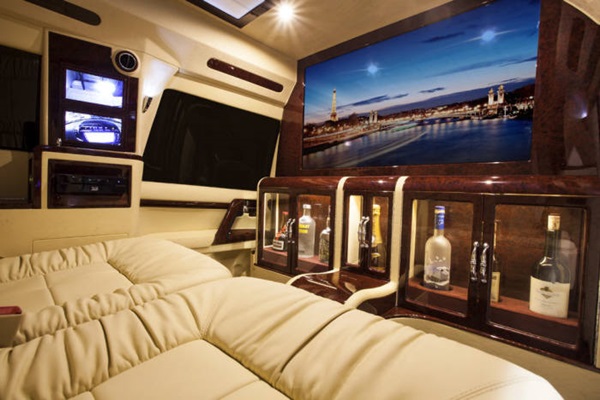 It seems that this 'Outside of House' will provide a new way out for TV industry that is confronted with limitation in its growth. A high-ranked person that is affiliated with a TV manufacturer said that although business depression played a role in TV market's slump in first half of 2015, this slump happened because period where family buys TVs just because it is new products had passed.

According to market investigative company called HIS, B2B-type products such as commercial TVs for business purposes, hotel TVs, and etc. recorded 5.3 billion dollars (about 6 trillion KRW) in TV market that was worth 98.8 billion dollars (about 113 trillion KRW) last year.

Staff Reporter Seo, Hyeongseok | hsseo@etnews.com