Samsung Display introduced 55-inch large transparent OLED and mirror display for the first time in the world.

Samsung Display announced that it introduced augmented reality solution that is comprised of Samsung's large OLED technology and Intel's IoT technology at 'Retail Asia Expo' which was held in convention center in Hong Kong.

Transparent OLED that Samsung Display introduced has world's best penetration ratio of 45%, FHD resolution, and 100% color representation (NTSC standard). There was a limit in application of previously commercialized transparent LCD due to its penetration ratio of 10% and color representation of 70%. This newly introduced product implements clear screen that is almost the same as a normal glass.

Mirror OLED has reflectivity of 75% that is almost similar to a mirror. Its characteristic is that it got rid of murky and stuffy sense of muddiness which was felt in LCD mirror products that had reflectivity of 50% and lower.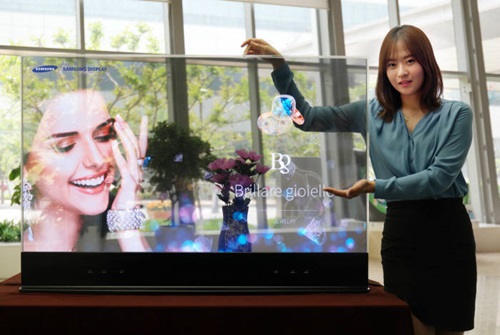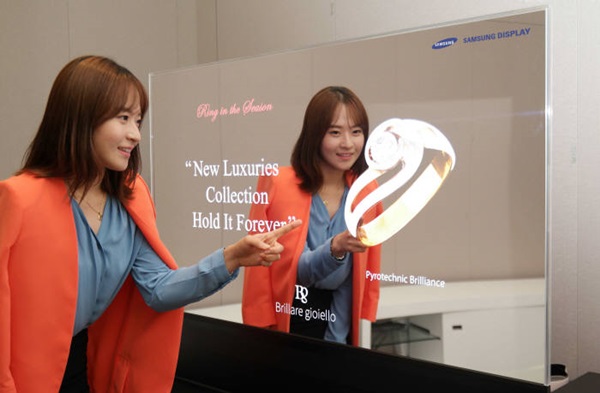 Samsung Display along with Intel ran booths during the event where someone can experience augmented reality using two products. In 'Automobile Real Sense Solution' booth, which was made up of transparent OLED, consumer can confirm product's detailed information and function as well as detachment of options while looking at a real car.

'Magic Mirror' booth, which was made up of mirror OLED, was decorated as like a jewelry store. A consumer can check him or herself wearing variety of necklaces and earrings by looking at display which reflects consumer's face just like a normal mirror.

They implemented more realistic augmented reality by applying Intel's 'Real Sense Solution' such as face, action, and background recognition technologies.

"Transparent and mirror OLED displays using Samsung's accumulated OLED technologies will bring ground-breaking changes and comforts to our lives. We are hoping for growth of future display market by working together with Intel." Team leader Yang Oh Seung of Samsung Display's New Product department said about what these two products will bring to our lives in the future.

Staff Reporter Sung, Hyeonhee | sunghh@etnews.com